Post by Dave on May 25, 2013 1:13:37 GMT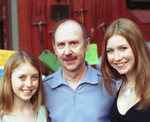 Thanks for the iTunes tips, though I have to say I found the samples on the first link to be very short, and they sounded over-compressed to me.
So I went hunting around and fired up my rarely used iTunes application (rather than the web browser). Boy am I glad I did!
They have high quality samples of all 16 'UK bonus edition' tracks, most of which are up to 90 seconds long (only two of 30 seconds).
I have spent the last few hours editing all the samples down for a complete sample set on our website, which I hope to complete tonight so watch this space. I will also create a UK edition thread tonight, now that we know probably all we need to know about it.
And what I now know for the first time is that I absolutely LOVE what I have heard of this album! There, I said it. As far as I'm concerned, Jon Cohen was right all along, this is good stuff. Not exciting in any way shape or form and a couple of the tracks are a bit too slow for my liking, but it's just delicate, gentle, beautiful music from beginning to end. Mood music for when I'm in the mood for it and right now, I certainly am. All those samples are a nice present for our 10th anniversary and for the first time in my life I can say that I love marmite!
Hi everyone,
As promised in the Hushabye General thread, here is the UK edition thread, now that we have the complete track listing and samples of every track! We can start additional threads for other editions as
full
details emerge, if they differ significantly from the UK and Japanese editions. Comments about Hushabye generally should continue to be made in the General thread.
Here is what appears to be the complete UK track listing.
1 Pretty Little Horses
2 Hushabye Mountain
3 Dream A Little Dream
4 Sleep On [for Royal Baby]
5 Twinkle Twinkle Little Star
6 Go To Sleep You Little Baby
7 Brahms Lullaby
8 Goodnight My Angel
9 All Through The Night
10 Baby Of Mine
11 Hine E Hine
12 When At Night
13 Stay Awake
iTunes De-Luxe edition: extra tracks
14 All I Have To Do Is Dream
15 Bau Bei
16 All Through The Night (Welsh)
You can now hear fairly high quality previews of every track (modified slightly from iTunes UK

) on the HWI website - all but two are between 60 and 90 seconds long, the other two are 30 seconds.
Hushabye UK - iTunes DeLuxe Edition samples
I haven't yet set up a "play all automatically" option, that will have to wait until tomorrow but you can do that on the iTunes PC application. Please let me know if the HWI web page I just linked to loads too slowly, there is a lot of stuff on there now and I may need to split some of it off.
Incidentally, I love Bau Bei!
Cheers, Dave