Post by Richard on Aug 9, 2011 13:41:13 GMT
Here's some more information from the
Official RWC 2011 Site
:
Official RWC 2011 album launched
(RUGBYWORLDCUP.COM) Tuesday 9 August 2011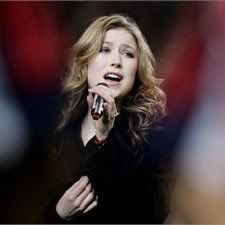 World's best selling soprano records World in Union

Album available to download via iTunes in September

Distinct New Zealand flavour, multiple languages
The official album of Rugby World Cup 2011 in New Zealand was launched today by the world's biggest-selling soprano and one of the country's most recognisable stars, Hayley Westenra.
World in Union, which will be released by Universal Music on August 26* and is available on CD and at iTunes and other digital providers, will feature 22 tracks recorded by some of the world's most recognisable operatic voices to celebrate this year's largest sporting event.
The iconic title track World in Union has become the anthem of each Rugby World Cup with an illustrious list of artists recording the song for each Tournament.
The 2011 album features Westenra recording a rendition that will become synonymous with Rugby World Cup 2011. The 24-year-old follows in the footsteps of another of the country's most celebrated singers, Dame Kiri Te Kanawa, who topped the charts with her version for Rugby World Cup 1991.
Westenra has not only recorded the song in English and Maori, as heard on this album, but also in Italian, French and Japanese.
Rugby World Cup Limited Chairman Bernard Lapasset said: "The World in Union is the soundtrack to Rugby World Cup, an iconic song for the global Rugby family and I am sure that this album, featuring some of the biggest musicians, will add to the Tournament experience for fans around the world."
"I am delighted that the album is not merely a collection of Rugby anthems, but it is a fine collection of songs performed by musicians who are Rugby fans. I am sure that Hayley Westenra's rendition of World in Union will be extremely popular."
The World in Union album continues with 20 more stirring tracks featuring the world's most successful singers. Alfie Boe, Russell Watson, Laura Wright, Luigi Corvi, Bryn Terfel, Katherine Jenkins, Brian Kennedy, Paul Byrom, Mirusia Louwerse and Roberto Alagna have all recorded songs representing the participating nations.
The album also features acclaimed Dutch violinist André Rieu, The Kenyan Boys' Choir, The Band of the Coldstream Guards, The Royal Scots Dragoon Guards and the Fron Male Voice Choir.
With over 95,000 fans expected to flock from overseas, Rugby World Cup is the sporting event to be at in 2011, but wherever you are in the world this album will provide the perfect soundtrack.
* Australia launch (August 26), New Zealand launch (August 29), UK/International launch (September 12).
Richard