Post by Dave on Jun 28, 2008 23:03:08 GMT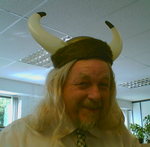 That is quite something, designing and building your own amplifier just to listen to Hayley's new album. It is many many years since I designed and built an amplifier, in fact back in my student days over 40 years ago.
If you read elsewhere however, you will find that some of us have issues with the way that the dynamic range of the music has been compressed on this album. Whatever you might do with the amplification, you cannot do anything about the source. That is whatever it is, and
even if you manage to eliminate all distortion from the amplification process, you are still left with that which is inherent in the recording and mixing processes.
Most of the time I listen to this album in my car, which has Peugeot's standard stereo. I have just spent a fair bit of money upgrading the unacceptably poor sound system in my new motorhome, and it is now excellent, I also have a half decent hi-fi separates system, which I intend to listen to this album on again tonight to see if I can still hear the distortion due to dynamic range compression.
Martin
Hi Martin, further to your above comments in the main Japanese album thread, I should perhaps clarify my thoughts on distortion a bit.
I'm not saying there was any distortion in its commonly accepted meaning (total harmonic distortion, intermodulation distortion etc.,) introduced by the compressing and limiting, just that the relative sound levels were changed by too great an amount and unecessarily. The pure voice is still pure and technically undistorted - but it doesn''t exhibit the full dynamic range.
Although, some people
would
argue that dynamically compressing the sound levels is tantamount to distorting the original sound - but you won't measure it with the standard distortion meters. Maya's low distortion amplifier will indeed make Hayley's voice sound clearer - but if you like a wide dynamic range (not everyone!), it can't unfortunately bring that back.
And if you like listening to Hayley in the car at 70 mph on a motorway, Japanese Album compression is probably just what you need to hear it all!
i.postimg.cc/9fYxy370/smilie-big-grin.gif
Given the choice though, you can probably guess what I prefer...

Cheers, Dave