Post by Richard on Jan 5, 2014 8:34:55 GMT
4 January 2014
from
Nelson Mail
:

Pears' energy and range dazzle

REVIEW: Fiona Pears in Concert. Old St John's, January 3, 8pm.
Reviewed by Margot Hannigan.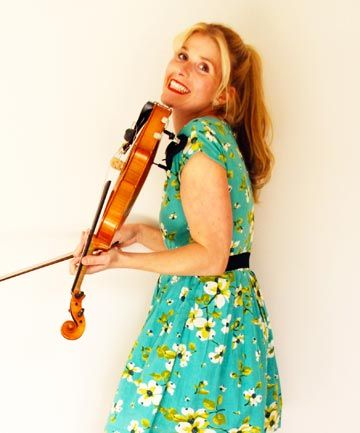 Fiona Pears is such a versatile musician. Her concert in Old St John's completed the christening of the venue for the Nelson Jazz Festival.
She was joined by her husband, Ian Tilley, on piano and keyboard, and the exciting gypsy-jazz duo from Christchurch, La Petite Manouche. It is 20 years since she first played in the Nelson festival and she was very happy to be back.
When she danced barefoot on to the stage, grinning like a maenad, and played the first strident item, Full Moon, with loud amplification, I wondered whether I was going to enjoy the evening.
But the opening frenetic energy changed to soulful nostalgia in the second piece, Memories, and throughout the programme, there was a balance of high energetic intensity and softer expressive folk melodies - Norwegian, Russian, Jewish and Celtic - which she played with heartfelt soul.
She is able to use the full range of technique from the piercing sounds from the top of the E string to harmonics, pizzicato and fast rhythmic runs, and she dances as she plays. As the light faded, I enjoyed the shadow of her dancing figure on the wooden church walls behind her.
The musicians she chose to join her were fitting companions. Her husband, Ian Tilley, accompanied her so well on piano and keyboard.
The guitar duo, La Petite Manouche, played bluesy and beautiful duets. I particularly enjoyed their tribute to Django Reinhardt, full of Spanish allusions. Their fast-flying fingers and driving rhythm gave Pears a springboard to bounce off.
They went with her on every accelerando and used expressive vibrato to enhance the slower tunes. For me, their most successful collaboration was Reinhardt's composition Nuages.
The audience were enthralled. In fact, the wooden pews literally rocked as they responded with foot-tapping and clapping to the rhythmic encore of Hava Nagila.
While it is sad that the Nelson School of Music is closed, the acoustic and ample seating, both upstairs and downstairs, of Old St John's was a more than adequate substitute.
- © Fairfax NZ News
Richard