Post by fusilier23 on Jun 27, 2011 2:13:06 GMT
Hello all,
Kristyn Murphy's sister Erin asked me last year if I was making my "annual pilgrimage to Maine" when I came to her last home concert last August. I don't know if I would call it a pilgrimage, for although Kristyn is a wonderful person she is as human as the rest of us, neither saint nor seraph, but I try to make a point of turning out at least once a year to support her in major events, she has been a wonderful friend for almost ten years as well as being a wonderful singer. This year it came a little early, though, as she hosted a release concert-cum-tea party on June 25th to unveil her new CD "Kristyn Murphy, Barefoot Soprano" by Krisolyte Records, which I guess is the successor to Teen Grace Music.
It was a long drive up to Maine through the rain, though I broke it up between Friday evening and Saturday, but I finally found my way to Brewer (hometown of Civil War general Joshua Chamberlain) and the Next Generation Theater, a charming little community theater sharing space with the Between Friends gift and antique shop. The space was decorated with posters of traditional well-known shows, and occupied partly with traditional theater seats, partly with tables that seated four people each. Kristyn's entourage, mainly consisting of members of her large family, set up each table with plates of fruit and various baked goods and pots of hot water, while a girl who was, I believe, an employee of the theater came around offering different tea bags. I chose Earl Grey, jokingly remarking that if it was good enough for Captain Picard it was good enough for me (Star Trek reference), and settled back to see what Kristyn had in store for us. Her sister Erin set up a table in the back with copies of her CD for sale while Kristyn talked to some local reporters.
Her brother gave a brief introduction and she stepped out on stage, this time in navy blue, and began her concert with the traditional arrangement of "You Raise Me Up," made famous by Josh Groban, Celtic Woman, and many others. Well-used though the song may be, it is perfect for Kristyn, whose velvety voice slid with ease over the long melodic arches.
After applause she welcomed everyone and introduced her next song as "not being from the opera Rigoletto" but the less well-known film. This song was called "Let Me In" and could be described as a "power ballad" in which the singer describes her favorite part of a fairy tale, the happy ending, and asks her love to make her happy too. Songs like this are perfect for Kristyn's warm and powerful lower register.
Kristyn then sang "Ashokan Farewell," which featured the violin playing of her longtime friend Nate Lesser, who has accompanied her a few times in concert, but unfortunately couldn't be there this time (these were sung to backing tracks). With a twinkle in her eye she said this next song was her dad's "favorite" because he could never get it out of his head after he heard it, and launched into the 1940s "I Said My Pajamas (and Put on My Prayers)," easily the funniest piece on the program with its silly lyrics and slide whistle in the accompaniment.
She said that the next piece wasn't on the CD, but she was including it for her father, who liked it, and sang "Memory" from Cats, then finished the first half of the program with a jazzy version of "Bridge Over Troubled Waters."
After a break, during which people could walk about, refill their teacups, or buy her CD, she began the second half of the concert with Jerome Kern's "Can't Help Lovin' Dat Man of Mine" from Showboat and joked a bit about where the title "Barefoot Soprano" came from. After that she became somewhat more serious, and talked a little bit about when she was studying in Hartford and became homesick and unhappy partly because she couldn't see the stars at night. She then sang "My Winter Dream" which is all about longing for home and love on a winter's night under the stars. Her last song on the regular program was Paul Weston's "Shine," but she was fairly easily clapped into doing an encore, in this case the soaring Irish ballad "Carrickfergus," using the same accompaniment Charlotte Church used. I don't think Charlotte would care now, though.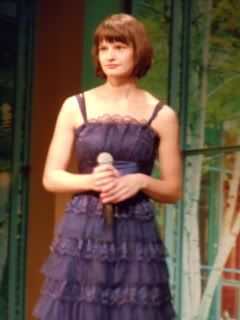 Kristyn invited the audience to meet her and talk to her afterward, saying she'd sign CDs. She of course did, and was very good about chatting, taking pictures, and hugs. Eventually my turn came, and we had some light talk about what was next for her (at least one more album is coming) and how she would like to see the world (she definitely wants to perform in the UK and on the continent) and just general catching up. She was of course kind enough to pose for a few pictures, even though the weather wasn't conducive to outside ones.
The CD is well worth a listen, though I'll do a more detailed review of that later. Kristyn certainly knows how to put on a good show and I am glad to be able to support her. I encourage everyone here to do the same.