Post by fusilier23 on Aug 16, 2010 14:58:55 GMT
For the third year in a row Kristyn Murphy was doing her "home" concert mid-August at East Orrington Congregational Church in East Orrington Maine. For the third year I made a point of going up to support this excellent young singer who I have now known for seven years. She certainly did not disappoint.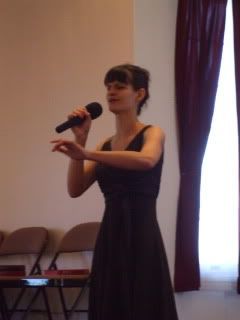 This year I planned from the beginning to be in Maine for this concert, so I spent Saturday cruising out of Bar Harbor and watching the Humpback and Finback whales and puffins, then taking pictures of the charming if small village. Sunday dawned bright, and after taking some more pictures in Bangor, I got dressed and drove over to the whitewashed church with its clear windows and maroon hangings. I quickly said hello to Kristyn, her mom, and boyfriend Ethan before taking my seat where I thought the best angle for pictures was.
Kristyn took the front of the sanctuary, this time in chocolate brown, and began the program with the song "Secret Love." After a brief welcome to this "very air conditioned" church, she sang Jerome Kern's "All the Things You Are" from the Broadway Musical Very Warm for May. Her voice soared in the melodic arches and caressed the phrases as she praised her true love. After that Kristyn really hit her stride with the George Wyle 1949 popular song "I Said My Pajamas (and Put On My Prayers)," with its catchy melody (she remarked on her dad complaining he could never get the melody out of his mind after she sang it) and funny reversed lyrics telling of the singer besotted with her love who kissed her goodnight. If done wrong it could easily come off as too sentimental, but Kristyn gave it exactly the right mix of innocence and romance, even punctuating the verses with kisses.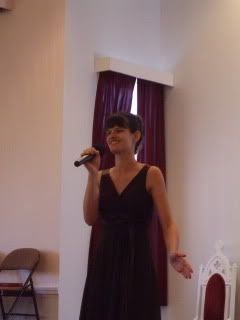 She then took a brief break while her friend, violinist Nate Lesser, who was with her in her first home concert and has since risen to become Concertmaster of the Oberlin Orchestra, performed a lyrical interlude called simply "Andante."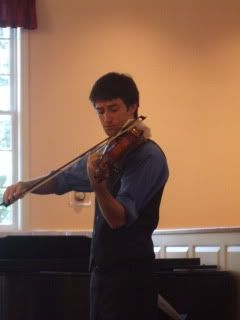 Kristyn then returned to the stage and sang "Carrickfergus" the Irish song about home and love, in much the same arrangement used by Charlotte Church so many years ago, followed by the less well-known but very beautiful song "My Winter Dream" accompanied both by pianist Tamara Lesser and Nate with a violin obbligato. The lyrics spoke of the singer dreaming of her love on a winter's night and seeing him in the stars. Kristyn captured that emotion of longing very well.
After that Nate played two pieces, first the haunting "Ashokan" Farewell, familiary to Celtic Woman fans and Civil War buffs everywhere, then a piece called "Fratres," by the Estonian composer Arvo Part. The latter was a very unusual 20th century "minimalist" piece based on seven note scales, however not making use of jarring harmonies or illogic like certain other 20th century composers.
Kristyn now began the more serious part of her concert with three patriotic/inspirational pieces, describing herself as "a very patriotic person" and speaking the praises of the American forces currently fighting two wars (her niece and sister are both serving soldiers). The first was "American Anthem" made famous by Denyce Graves in the wake of 9/11. While not strictly a battle song, the second verse mentions "valiant battles fought together" and the intent of the refrain is obvious:
Let them say of me that I was one who believed
In sharing the blessings that I've received.
May I know in my heart when my days are through,
America, America I gave my best to you!
Kristyn's voice soared and her passion shone through. After that came "Song For the Unsung Hero," a little less classical but every bit as patriotic, and made famous by Kristyn herself on a single which she regularly sends free copies of to serving military personnel. For the third piece in this suite, Whiting's "Till We Meet Again," similar in some ways to Vera Lynn's "We'll Meet Again," she was joined again by Nate Lesser. Kristyn's warm voice was perfect on the refrain, singing of lovers' lanes and wedding bells when the lovers are finally reunited.
After one more violin interlude it was time for Kristyn's favorite part, her religious songs, because as she stated, she loves God and she loves singing about Him. "Once Upon a Tree," was her first, from the Easter cantata of the same name Although at first look the title sounds almost like a fairy tale, there is nothing fairy tale-like about this song, which is in fact a very serious song about the Crucifixion, and how it would be a sad story if the Gospel ended there, but thankfully it doesn't. The melody was slightly similar to the Scottish song "Loch Lomond." Kristyn finished the regular program with her "signature" piece, the gospel song, "Jesus is My Song of Grace."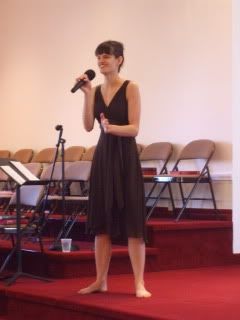 After a standing ovation and an encore "Ten Minutes Ago" from Cinderella, everyone went downstairs for refreshments. I chatted at some length with Kristyn, boyfriend Ethan (a percussionist by training and a very nice guy as I got to know him) and her older sister Erin, who is usually fun to talk to and asked me if I had made my annual "pilgrimage" to Maine. I laughed and send I gave Kristyn two pictures I'd had framed for her, one a signed picture of Celtic Woman, who she'd seen in concert but not been able to meet, the other a montage of pictures of her over the past few years I'd put together. She was pleased and thanked me with a hug.
After Kristyn had said hello to most of her fans and the room was starting to empty she again agreed to allow me to take some posed pictures of her and also autographed some I had taken in the past with her graceful signature ending with musical notes.
Here she comes...
Such a nice day...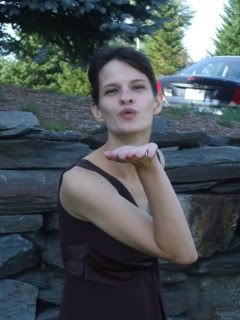 Kisses for her fans.
After that it was unfortunately time to go. Kristyn and I embraced and said our goodbyes, and I said as I often do that I will find some way to bring her back to NJ one of these days. Kristyn's instrument gets better and better each year, and I think she did better this time out relying more on her voice and her personality and less on extras. Like fine whiskey, she needs nothing extra. At least equally as important if not more so, she still retains her gracious, friendly, and open personality as well as her patience. I certainly look forward to the release of her upcoming CD, but I'll let her speak to the particulars of that.