Post by Ross on Feb 8, 2009 11:17:56 GMT
I got to Ashburton in plenty of time before the concert which started at 4pm. I was one of the first there at 1.45pm so I set up my rug and chair near the stage in front of the sound tent. I had to apply plenty of sunscreen as the temperature got up to 37 Celsius (99 F).
Not long after I arrived the Westenra family set up next to me. While Sophie was getting ready and doing sound checks I talked to Jill and later Gerald. Hayley is finding London is cold and is missing our lovely weather.
The MC for the concert was a local singer from Ashburton, Gavin Templeton, and he introduced three young ladies who sung a song each. Gavin and Sarah Templeton (Might be related) sung
Phantom Of The Opera
which they did well.
The 3 girls then sung a NZ song
Great Big Melting Pot
.
Then a local group called Kopy Kat (which included Gavin) did some songs targeting the children to get them up dancing.
They did
Mama Mia
as one of the songs and in one song Gavin did several impersonations of famous singers including Kermit the Frog and Miss Piggy from the Muppets which was funny.
Then Sophie came on to do her first set. She was in a lovely red dress.
Unfortunately for Sophie she started with Mike problems and had to have the Mike replaced during the song but she carried on like a true professional. Here are her 3 songs
ShenandoahI Know You By Heart
(Eva Cassidy)
The Holy City
which Sophie said her Granny used to sing to her.
Then The Three Tenors came on which included Paul Madsen who Sophie has sung with before and appeared on NZ version of Stars In Your Eyes as Freddy Mecury and he was a very versatile singer.
Brent Liebezeit is a pastor from Nelson and sings like The Priests.
Nick Rentoul plays on the keyboard (He does the whole concert) and knows the Westenras.
Here is the play list:-
You Raise Me UpNella FantasiaMusic Of The NightBring Him HomeBridge Over Troubled Waters
Then Paul sang
To Where You Are
(Josh Groban)
Desperado
(Eagles)
The 3 Tenors -
The Piano Man
During the interval I had my picnic tea which included cold Roast Beef slices and potato salad with a bottle of Grape Juice (as I was driving I couldn't have any wine

).
After the interval Paul sang
Barcelona
(Freddy Mecury)
The 3 Tenors -
Amazing Grace
Then Paul called Sophie onto the stage and they sung Somewhere (West Side Story).
Sophie then sang Via Dolorosa from The Passion Of The Christ movie.
Songbird
was beautiful and you almost thought it was Hayley singing as you will see later.
You'll Never Walk Alone
finished her set.
The 3 Tenors -
All By Myself
How Great Thou Art
The Prayer
My Way
Then for the biggy, Sophie joined the men (in a new dress) and they sung
Time To Say Goodbye
and they finished with
God Defend New Zealand
with the audience standing and singing too.
After a short break Paul did some dance songs to get the kids and adults up dancing. He started with
Night Fever
, Gavin joined him and they did
Sweet Caroline
,
Faith
(George Micheal) ,
Living On A Prayer
(Bon Jovi) and
Islands in a Stream
.
Paul then finished with getting some adults and kids onto the stage to do some Jazzercise and guess who was up there? Well as you will see shortly it was Gerald and Isaac lol.
Paul then sung Happy Birthday to a girl called Abby.
Well it was a very enjoyable concert and as you will find out later Sophie has a very good voice. Jill said to me only last week Sophie had laryngitis so it was lucky she could do the concert and Paul had come straight from hospital so it was amazing he could do anything at all.
I asked Jill for permission to post videos of Sophie on HWI and she said yes so in the next few days I will post them here.
Here are some photos to wet your appetite until tomorrow.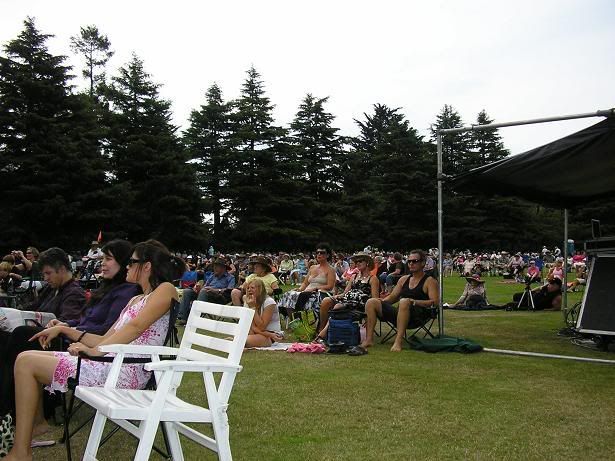 Some of the crowd of about 2000.
Sophie in her red dress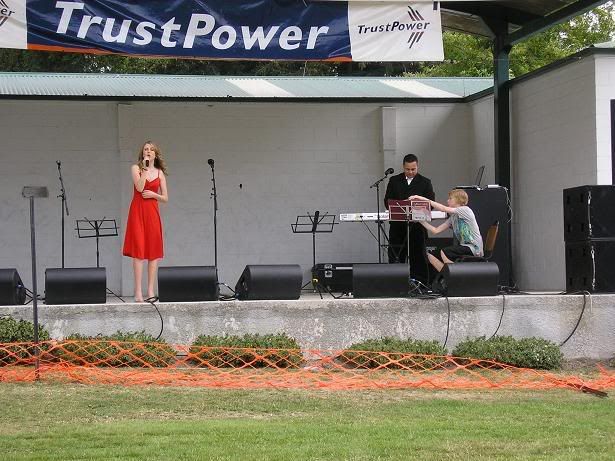 I forgot to mention Isaac had an important job of turning the music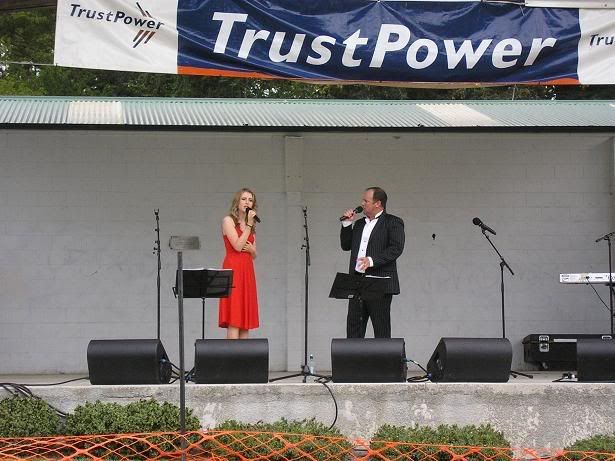 Sophie and Paul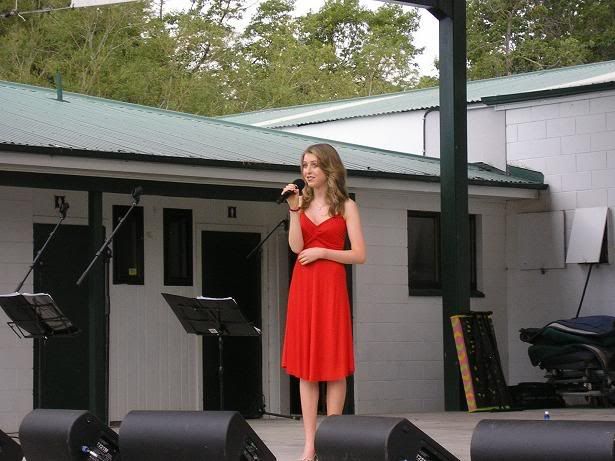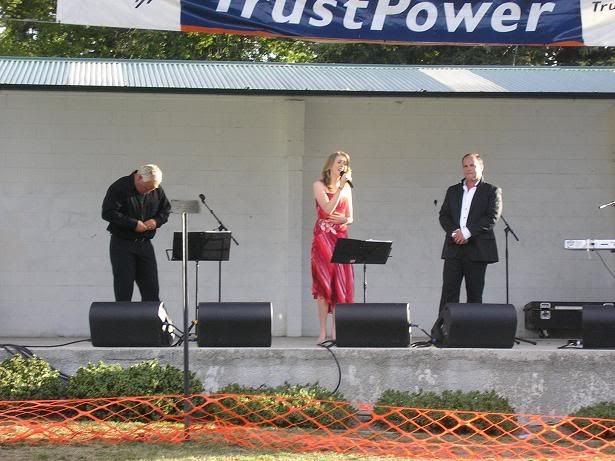 Sophie in a different dress with the 3 tenors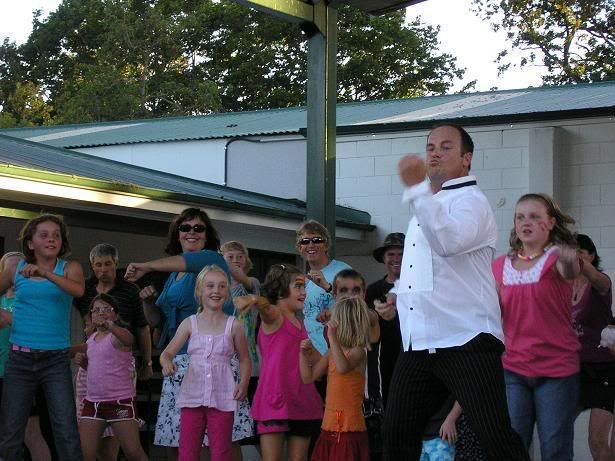 Gerald and Isaac doing Jazzercise (left of Paul).
I will post more photos and videos tomorrow.