Post by chrisw on Oct 26, 2008 23:21:59 GMT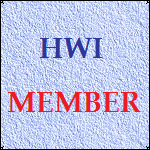 No Martin, I feel the same. When I was looking at the picture of Hayley putting on the vest, the only thought in my mind was 'Oh my dear how could you still smile while you put on that heavy vest in that messy place.' But now she's back safe I think we can all lie back a bit. Somehow I think we worried more than the lady herself did.
Tin
I think she was taking the vest off in that picture (the caption on the MOD site mentioned her "undressing" from it). But your basic point holds, of course, although the part of the trip that worried me was the flying in and out of Bazra -- I think that might be when the vest was worn. That is what would frighten the blazes out of me -- being in that aircraft in and out of Iraq. At the actual base on the ground you may be relatively safe. (Although the key word there is "relatively".)
I must say that I am very impressed that Bedlam contacted HWI too.
Stuart etc,
The vest in the photo was part of a photo-shoot, and belonged to one of the rock-apes, sorry, the RAF Regiment guys there.
Hayley, along with all personnel in theatre, was issued with a jacket and helmet - in her case it was a navy blue one which identified her as a civvie.
As for flying in and out of Basrah airport, it's a lot safer than it used to be. Without saying too much about the airfield defences - which are my primary role until the end of next year - it's actually more dangerous crossing the road in any major city-centre in the UK. My first flight into Basrah in 2004 was the first time they'd flown in during the day. We flew in two RAF C-130 Hercules aircraft, the same model as the one that was in the media the other week, being referred to by the coroner as unsafe. They lined up on the first aircraft, and when we, in the second one, approached the airfield, they launched a rocket and mortar attack. My introduction to Iraq was taxiing towards the terminal with explosions all around, and spending the next three hours in a very hot and stuff shelter. Needless to say, it's a little more civilised these days..