Post by fusilier23 on Aug 18, 2008 3:27:29 GMT
Almost three years had passed since I brought Kristyn Murphy to NJ to do a Christmas concert, when she was 15 and just getting her mature voice. However, we'd never fallen totally out of contact and when she told me she was going to do a "farewell" concert in her hometown of Orrington, Maine, I decided to take some time off work and return the favor by coming out to support her, for five years of consistent friendship and cheerfulness deserved something.
So I rolled into Maine on Saturday, and spent the rest of that day and the first half of Sunday looking around Bangor and the surrounding area, taking pictures of monuments, lobster boats, and the like, and picking up some edible souvenirs; fudge, salt-water taffy, jam, and maple syrup.
There was plenty of time to get back to the hotel, get dressed, and get over to East Orrington Congregational Church well before 2, however.

The church itself was what I would call neo-Colonial in character, whitewashed and well appointed, although I do not believe it actually dates back to Colonial times. The assembled audience numbered between 100 and 150, I would say. Kristyn was doing her sound check, and joking sang "This is only a sound check, I don't want to give the concert away."
OK, on to the important part, the concert itself. On the stroke of 2, Kristyn stepped up to the front of the sanctuary, resplendent in a new teal green dress her mom had made and gold-tipped heels (sorry
), with that famous smile that no one can be unhappy in the presence of.
i.postimg.cc/9fYxy370/smilie-big-grin.gifThanking
everyone for coming out, she began with the soaring Jane Powell song "A Heart That's Free." Although her voice had a lot of power when last I heard her live, she has twice that and much more even tone quality now. Her competition at the Hartt School next year had better look out.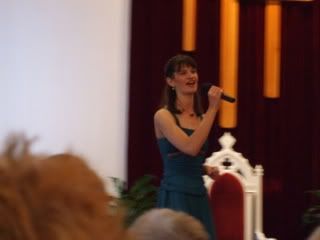 Thanking the audience again, Kristen had us all read the lyrics to Jerome Kern's "Look For the Silver Lining" from Sally out of the program, then sing it with her. That's Kristyn for you, I think she could cheer Oscar the Grouch up if she tried. After that came Rodgers and Hammerstein's standard "Getting to Know You" from The King and I, with the added twist that she descended from the stage and went up and down the aisles shaking hands with the audience!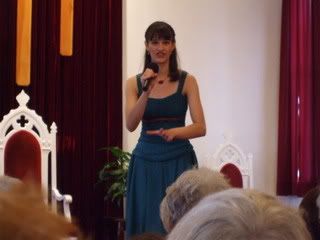 Addressing the audience she stated that she had gone through the list with her parents, and her father had asked where the Irish songs were, and I can see why, given her surname. This led into the music-hall standards "A Little Bit of Heaven," talking about the legendary origin of Ireland, and "When Irish Eyes are Smiling." I don't know if you can always hear angels singing in Irish laughter, but you sure could in Kristyn's singing.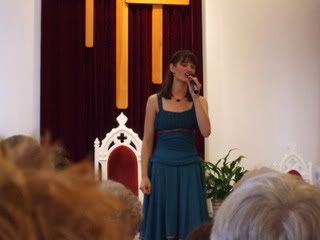 At that point Kristyn introduced Nate Lesser, a 17year-old violinist bound for Oberlin College in the fall. He played a three movement piece called the Pupil's Concerrto No. 2, and did it quite well, I think, though as a non-initiate in the ways of string playing I can only give a lay opinion. In her introduction, Kristyn remarked on the fact that, though she has a large family (6 brothers, 3 sisters) none of them are musically talented, so she has to pull in her friends instead.
Kristyn moved next into the realm of Broadway, with a slightly truncated version of "If I Loved You" from Carousel. Indeed, love was the whole theme of this section of the concert. She followed with a gentler version of the Frank Sinatra standard "The Whole World Is Singing My Song," which came off very well, then Ivor Novello's "Love Is My Reason" from the operetta Perchance to Dream. "To Love" was her last song in this section, after which she yielded the stage to Nate again, for the Praeludium and Allegro, followed by the more familiar "Meditation" from Thais, with the theme somewhat similar to the "Serenade" from The Student Prince. He received the first standing ovation of the afternoon when he concluded, with a beautiful decrescendo on an extremely hard to hold high note.
Kristyn's final suite was in the genre where she shines brightest: sacred. With stern piano chords from accompanist Tamara Thomas and good use of her low notes, she began the song "Love as I have Loved," telling the weighty story of the Creation, the Fall of Man, and the Redemption, ending with Christ's exhortation if you see someone in need of help, to give it, and love as He loved. Nate then joined her on stage and they performed a version of the spiritual "What Love is This." Then Kristyn did her signature piece "Jesus Is My Song of Grace" and finished with a song called "Nothing Left To Say." It is hard to describe this last song, since it was new to me, but I can best describe it, I think, as an heir to the tradition of the well-known hymn "How Great Thou Art." The singer is speechless not because she has come to the end of the concert, but because she is experiencing God's gift of wonder at the world. For some singers it might have seemed silly, or sentimental, but it fits right in with Kristyn's deep faith.
After a standing ovation, Kristyn once more called Nate up on stage and they brought the concert full circle with a song called "An Old Violin," about how someone was playing an old violin in the attic simply for love of the music. The audience applauded enthusiastically. Some got up to go, but many more remained to shoot pictures and get autographs. My turn came, and after a warm embrace and congratulations, I proffered a picture of the two of us from her concert in 2005, asking her if she'd sign it, which she gladly did.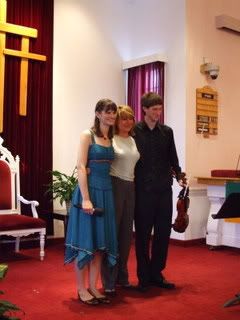 Those who remained then adjourned downstairs for refreshments. Several of the audience asked me if I was related to Kristyn, since I had taken a good 30 pictures during the concert (with suppressed flash, it works really well in these situations and does not distract the performers). Not sure how to take that, I said no, and told the story of HWI and the 2005 concert as briefly as I could.
I lingered for a while with Kristyn and her family, chatting at some length with her lovely older sister Erin. I also ordered copies of her next CD and a DVD of the concert, which I'm sure you all will be able to soon, and I encourage you to, especially the CD since it's to support the American soldiers currently busy with the war on terror, among them Kristyn's other sister.
Alas, all too soon the room was empty and it was time to go. I asked Kristyn if she had any message for the people here, and, as best I can relay it, her message is that she has had a lot of fun up to this point and is looking forward to achieving great things at the Hartt School, but she isn't going away, and everyone should still expect to hear from her. She, her parents and her siblings all laughed heartily at the very idea of Kris fading away; "As if she could!"
After multiple hugs and kisses, plus some additional pictures and promises to try to bring her back to NJ in the spring, I departed, musing that if God ever gave joy human form, it would be Kristyn Murphy.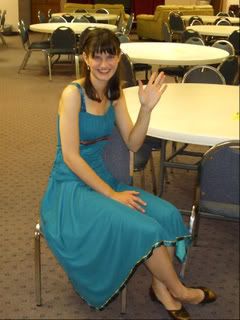 Oh, and a "bonus" pic so no one feels cheated.