Post by Joe on Dec 8, 2005 3:49:27 GMT
A review of Hayley Westenra
In concert at the State Theatre, Easton, PA
Featuring Fiona Pears on violin; Ian Tilley on piano

By Joe Sukenick
After travelling over two hours, my family and I arrived at our hotel. There was an Indian restaurant at the hotel's far end; the aroma of spicy chicken vindaloo and aloo gobi tended to permeate to the floors above. We decided to walk to the State Theatre from the hotel. It was only five blocks away; the rain stopped for the time being. I brought my five-photo press kit, Hayley's bio book, and Hayley's gift with me.
My Gift to Hayley...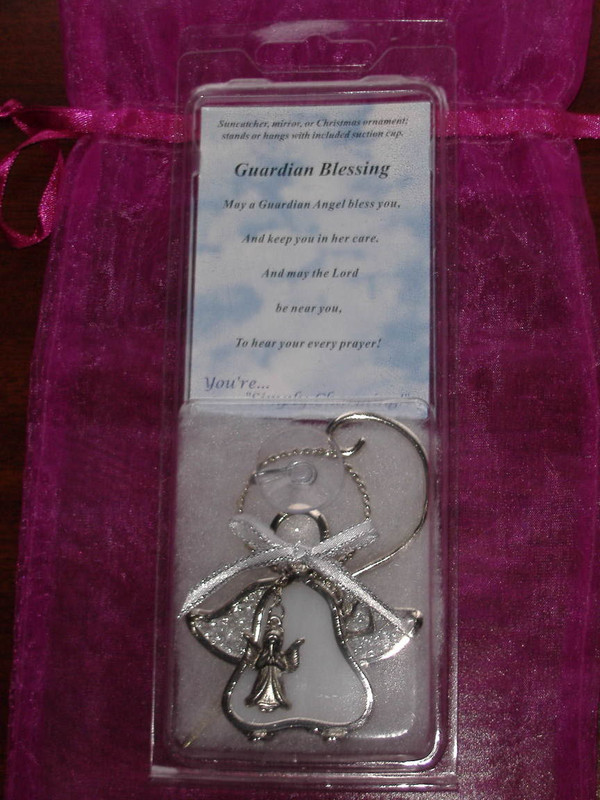 I decided to take my booklet of Libera's CD "Free"; since Ian Tilley produced the CD and Fiona Pears was the violinist.
My family and I made our way to the theatre lobby; where Hayley's "Odyssey" and Fiona's album "Doorway to Distant Lands" were being sold. Tim came over and introduced himself. We talked about Hayley's concert only two evenings prior. I then purchased "Odyssey".
We found our seats quite easily; guided by the ushers and their torches. My brother John and I decided to return to the lobby and get some pics of Tim. However I met Steven along the way and we chatted about what the concert might contain. Making our way to the lobby, Steven introduced himself to Tim and my brother took a nice photo of Tim, Steven and myself.
(l-r Joe, Tim, Steven)
Realizing that the show would start any minute, we departed. My brother and I took our seats next to our parents. To my dismay I noticed that Natasha and her family hadn't arrived yet.
After an introduction by Steve Abbott, Ian and Fiona took the stage followed by the bright visage of Hayley. The first piece was "Prayer". Hayley explained that the song was based on the story of Hansel and Gretel's dillema in the dark woods.
Apparently the piano needed some adjusting; Ian took a moment to rectify the problem. "Never Saw Blue", a stand-out from her new album was next.
Hayley said how much she admires Joni Mitchell's music. And "Both Sides Now" certainly didn't disappoint. Hayley sang it with such grace.
Hayley took a well-deserved break. We were treated to a piece by Ian and Fiona. "Turkish Fantasie" (from Fiona's second album) was a delight. Fiona is certainly a gifted violinist.
After a long applause, Hayley rejoined the pair on stage. She treated the audience with "Ave Maria". Although I prefer different versions, these two words are sung with so much emotion and feeling.
Hayley told the audience that the next song was on the "Merchant of Venice" soundtrack. I've only just heard it on the "Pure" UK Special Edition CD. The song "Bridal Ballad" is a gem.
The first half of the program ended with "Amazing Grace". It seems that Hayley prefers now to sing the final lines in a more conservative octave.
During the twenty-minute interval I met Natasha. An utterly charming and talented young lady; she accompanied me and my family to the lobby. Steven and Tim rejoined us in the lobby.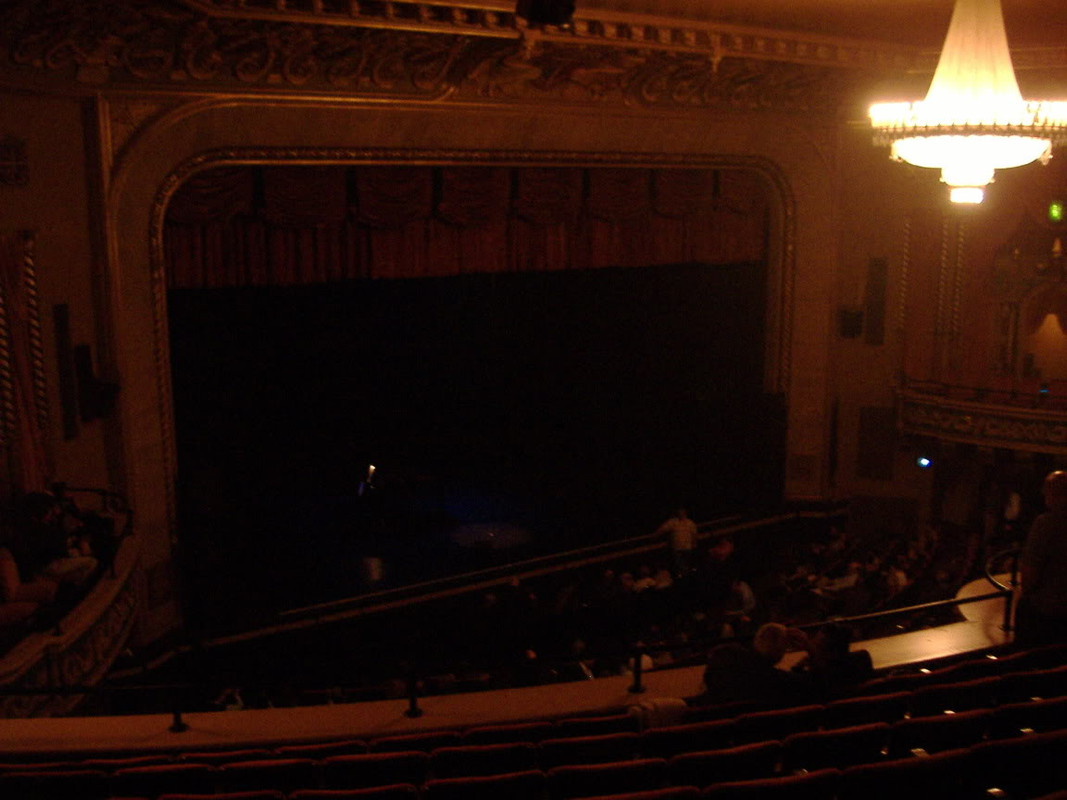 A dim picture inside the theatre as seen from the balcony.
Heeding the flashing lobby lights; we retook our seats. Ian and Fiona took the stage; Fiona played "Green Hills" followed by the Russian Folk Song 'Otchi Tchornya'. Fiona told the crowd that it means "Dark Eyes" and that we'd immediately recognize the melody. She was correct; judging from the crowd's involvement.
Fiona expressed her liking for spiced pumpkin cappuchino. This delighted both the crowd and Hayley, who retook the stage. "Who Painted the Moon Black", with a beautifully lit stage, was next.
Hayley said that "May It Be" always takes her back home to NZ. A beautiful song by Enya.
Next was "In Trutina". Hayley sung it with such emotion. Ian Tilley was just a marvel on the soft pedal.
"I Say Grace" was next. Hayley explained that she now owns the rights to the song; having achieved the rights in NY only two nights ago.
The show ended with "Hine e Hine". As on the DVD; she told us the story of how the television channels would end the day's transmission by showing a kiwi bird climbing onto a roof and wound tuck itself into bed inside a satellite dish. Hayley sang the end differently; choosing a lower range of notes than I'm used to on "Hine".
Hayley waved good-bye and received a standing ovation. The audience continued to clap and Hayley returned, saying "Oh, one more song!" The evening was ended by "Pokekarekare Ana". Hayley's voice was clear as a churchbell right up to the end.
Hoping that Hayley would emerge into the lobby; Natasha and her mother, Tim and Steven, and I and my family remained in the lobby even as the crowd filed out. I spoke to an usher and enquired if Hayley would appear. I later learned that Hayley was meeting a VIP group of PBS members.
Ten minutes passed and I again spoke to an usher. I told her that I was connected with HWI, a fansite. We all were told that the lobby must be cleared. A little girl with a bouquet of flowers (I'm assuming for Hayley) started to sob. All of us made our way outside; huddled under the theatre's marquee.
Steven got a tip from Eric (of another fansite) about a possible back door to the theatre, so my brother John and I followed. Through the pouring rain, I saw a lit window and door across a dimly-lit alley. A dark vehicle was close by. Against our better judgement, John and I hung around for ten minutes. I did my best to keep both my folder and Hayley's gift dry. Dripping wet, John and I gave up and walked back under the marquee to rejoin our family and soon after got to talking with Tim. Steven and Eric later rejoined us. They said that it was quiet at the supposed back door. The trolley arrived and my family and I departed the theatre on our way back to the hotel.
Later I learned that both Tim and Steven returned to the back door and was able to meet Ian and Fiona. Hayley emerged some time later and was grateful that the pair waited over a half-hour in the pouring rain. Good job men!
Alas, I'm sorry that I missed Hayley. I keep thinking to myself "if only I waited twenty minutes more round the back door..." but I felt that more important conditions warranted otherwise.
In closing, hearing Hayley's voice in person was ethereal. I pictured all of the places that she's been and how blessed I was just to be there. Plus I was so very glad that I able to meet Tim, Steven, and Natasha. The latter pair of whom I've communicated with for the better part of two years. Thanks to all of you