Post by Jillian on Aug 22, 2013 8:26:09 GMT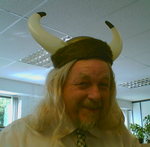 But the Hayley of Hushabye is not the Hayley that originally blew me away the first time I heard her sing back in 2004. Then it was the purity and beauty of her voice. She was only 16 at the time. Nemunoki is a good example of that. BOTW is the other side of the coin, all about interpretation and yes, the quality of Hayley's voice too.
I played BOTW to the guy who I car share with on my infrequent forays into work. He said that most people perhaps wouldn't like it, because being different to the original, it was "wrong".
I pointed out that I doubted that Art Garfunkel could match the power, range and control that Hayley demonstrated on her recording, so had to record his version to suit his voice. Hayley recorded hers to suit her voice, and interpreted it her way, which is exactly as it should be.
Martin D
The thing is that a lot of effort and thought was put into designing Hayley's 'Pure' sound. In the sense that 'Pure' was the second attempt after the first efforts recorded in Ireland were considered not quite right.
Look at the difference between 'Hayley Westenra' and 'A Gift to You' and Pure. All the vibrato gone and in its place a crystal clear and pure tone that made Hayley famous world wide.
While it may seem obvious now that that's the way Hayley should sound, Hayley wasn't directed to sing like that during her first 2 New Zealand recordings. Sometimes things that appear effortless have had a lot of thought and work put into them.
Then with Hushabye, I think that Hayley and Jon Cohen wanted to do something 'different' with an album of lullabies - and decided that changing Hayley's singing style would be the way to do that. Which is slightly ironic, as Hayley's unique sound is what makes her different and stand out in the first place.
Only, Hushabye was recorded on an extremely tight schedule and re-inventing Hayley's singing style is a massive task -- creating something better than her signature 'pure' tone would be a massive feat.
I honestly think that they bit off more than they could chew -- with Hushabye I don't think there was time to play around with recordings and styles and have a good think about how things sounded. Trying to re-invent the wheel on an incredibly short deadline is never an easy thing.
The contrast of
Hine Hine
from Pure to Hushabye is staggering. You'd scarcely believe it was the same artist and I think the magic was lost.
However, I don't think that it's necessarily a bad thing. A lot of artists have a false start with a style change before they have success with the following album. It's like they build off and improve on what they started with the previous album.
Cheers,
Jillian