Post by Ross on May 27, 2012 7:05:55 GMT
Fiona was one of the musicians who played in the Sumner Community Hall last night in the Here's to Life concert. This is a series of concerts during the winter to uplift the spirits of the communities affected by the earthquakes.
Sumner was hit badly during the February and June quakes.
I still notice the damage as I drove 30 minutes to get to Sumner which is nestled below the Port Hills. The road past the estuary is like going on a roller coaster with many ups and downs. There are also rows of shipping containers stacked two high to stop the cliffs falling on to the road if a big quake hit.
In the hall there were tables set up so we could eat any food we brought with us (plus booze of course lol).
I met fellow HWI member John, he was videoing the concert so hopefully there will be some You Tube videos later. Fiona's parents were there too.
The concert started soon after 8pm with a member of the
Tablo Accidental Theatre
group appearing on stage in a Phantom of the opera type mask with a box on his chest. He opened the box and a boy's head was inside it (a dummy). They sang opera tunes and they were great.
Then the host appeared on stage, she was
Ma Bell
, aka Izzy Miller Bell, who is an expat Scottish lady and can sing the Blues really well. She could also crack a joke and liked drinking wine on the stage (to lubricate her throat lol).
The first lot of musicians were
La Petite Manouche
(Fiona knows them) and they were two young guitarists playing Gypsy, Swing (similar music to Fiona) and they were fantastic. They played a Medley that started with
Careless Whisper
which some how ended up with the Chase theme from Benny Hill lol.
They also played Reinhardt's
Minor Swing
.
Then Fiona joined them and they played
Memories Of Martin and Mary
. Fiona was wearing a red patterned top and black pants (very Jazzy). And Fiona had a ball on stage tonight (not a real ball lol , she was having fun).
Then they finished with a beautiful version of
My Pal The Gypsy
.
Then
Ma Bell and the Blue Tones
came on. This Blues group consisted of Ma Bell, Harry Harrison ( early days with Fiona Pears and also our Hayley) on guitar and banjo, Jon Maxim-[censored] on guitar and a guest Saxophonist Sam Wilson.
They played some real groovy Blues with the funny names lol like
Hard Time Killing Floor
. Absolutely fantastic. She even got us to sing the chorus in one song.
During the interval I bought Ma Bell's CD and had a brief chat with John and Fiona.
Then in the second half Fiona and Harry played an early Fiona tune called
In a Sentimental Mood
(I think).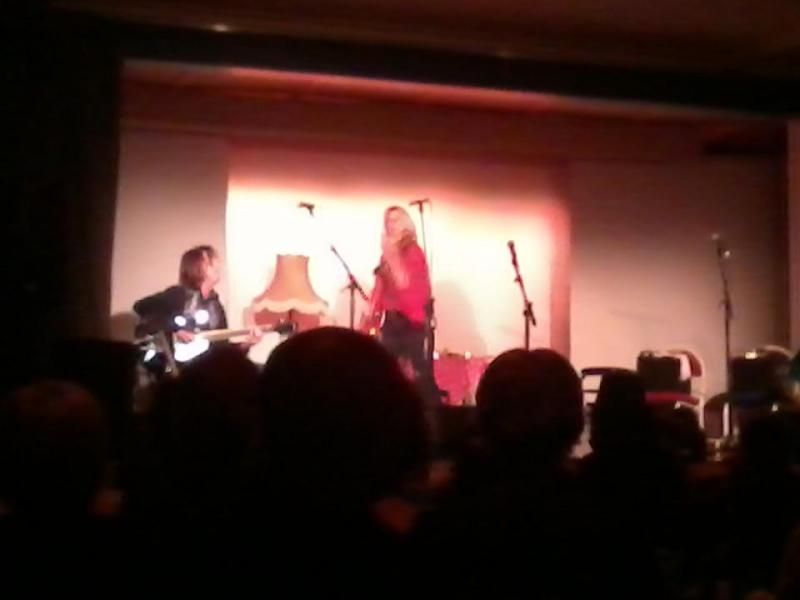 Then Fiona went off stage but Ma Bell got her back on for one more song (a theme of the second half with a lot of improvising going on). Joining Harry and Fiona was
Justine S
, a young Saxophonist who also played the Clarinet and Flute during the concert) and they played the Jazzy
Watermelon Man
.
Harry and Justine S played one of Harry's Celtic Ballads (he is also an expat Scot) called
Wandering Son
.
Ma Bell and her group plus Justine S finished off the concert with some more stunning Blues.
Excuse the quality of the photos, I only had my cell phone.
The concert finished at 11:20pm and I had the bouncy journey home to look forward to.