Shine!
Aug 17, 2009 5:21:20 GMT
Post by fusilier23 on Aug 17, 2009 5:21:20 GMT
This weekend started off looking like a disaster. My original plan had been to leave the US, briefly, to meet a friend. Well, those plans feel through, for reasons not entirely known to me. Not to worry. I had known that Kristyn was giving her second summer concert at her home church in Orrington, and was sorry I couldn't go. Well, now that the weekend opened up, aided by an understanding boss who let me change my vacation day, there was no way I was missing this.
So I jumped in the car and drove the 7 hours from home to Bangor. Once I arrived, I went out to Bar harbor and hopped a boat to go lobstering and seal watching. It was very interesting and yielded many interesting pictures. I topped off the evening by drowning whatever sorrows I had in a double Heath Bar ice cream cone.
In the morning I heard Mass early and went over to Searsport to pick up fudge, taffy, and other edible souvenirs, then quickly returned to get dressed and head to East Orrington Congregational Church, Kristyn's home parish. Although the audience was not as big as it was last year, since last year was Kristyn's "farewell" before starting college it was still well over 100.
Kristyn, in purple rather than the teal of last year, did not disappoint, stepping up to the front of the sanctuary on the stroke of 2 and beginning with "Look to the Rainbow" from "Finian's Rainbow," a soaring song in her soaring powerful voice about following your dreams from a show that's unfortunately somewhat dated now.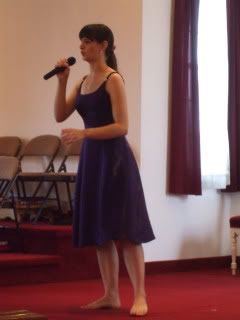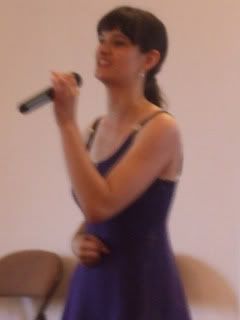 Continuing with the Broadway motif, Kristyn picked up the pace with Rodgers and Hammerstein's "It's a Grand Night for Singing" from "State Fair," then moved into one of her favorites, the perennially optimistic "Look For the Silver Lining," which she encouraged the audience to join in. The Hartt School has certainly done wonders for Kristyn's already powerful voice.
Afterwards she introduced members of her family present, and commented how it would be nice to have The Murphy Family Singers, unfortunately that wasn't possible. So instead, she introduced tenor Zachary Field, who joined her in the Rodgers and Hemmerstein love duet "Ten Minutes Ago," from "Cinderella."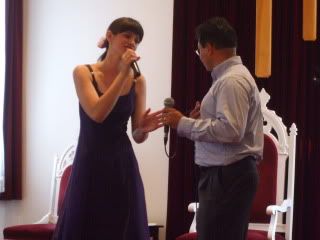 After that she introduced 18 year-old cellist John Frankland, who, after a quick lesson on what the Tarentella was (a wild dance thought to relieve spider bites) played a typical example of one, though not the overused one from "The Godfather."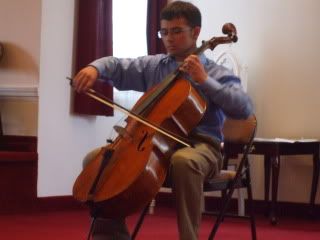 The next set was a pair of Irish pieces, which she always includes to please her father. One was the well-known "Carrickfergus," using the same arrangement that Charlotte Church used what seems a lifetime ago. The other was the not as well-known "If I were a Blackbird" in which the singer imagines herself a blackbird so she can pursue her sailor love out to sea.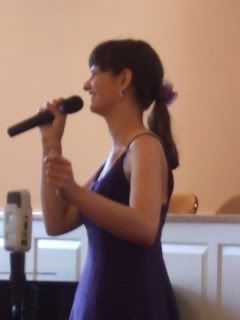 Next, well, this was the part that surprised me. Kristyn had head somewhere that you should do something other than sing to entertain your audience, so she was going to juggle for us. Yes, you heard it right, juggle. She actually took 3 red balls and did her best, aided by Zachary, and, well, the pictures tell the story.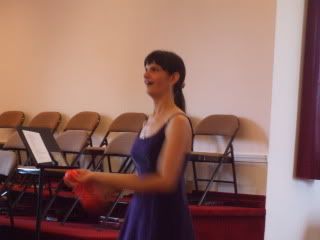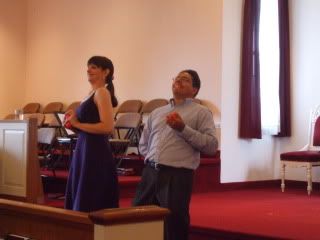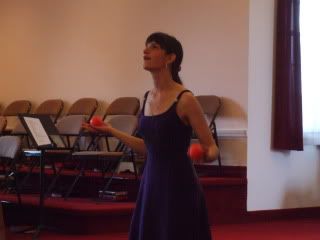 Getting back to the music, the two of them essayed the Cole Porter love duet "All the Things you Are" and Kristyn sang "All the Things I Love," followed by a bold passionate rendition of the classic "Memory" from "Cats."
After being teased by Kristyn into making Nascar sound effects, John Frankland played another Cello suite consisting of the famous Rimsky-Korsakov "Flight of the Bumblebee," and a piece called the Sarabande, and then it was time for Kristyn to sing her religious/inspirational pieces, where she can use her natural vocal power to its greatest effect. First, accompanied by John, she sang the sentimental hymn "In the Garden," where the singer imagines herself walking and talking with God in the early morning. Then came one of her greatest faves, "Jesus is My Song of Grace," and she finished, appropriately, with "Nothing Left to Say," speaking of seeing all the wonders that God has put into this world and being left speechless.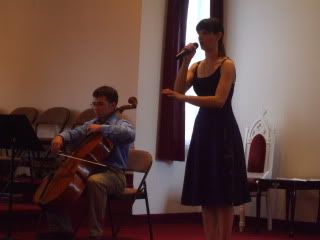 As an encore, she and Zack did Rodgers and Hammerstein's "If I Loved You" from "Carousel."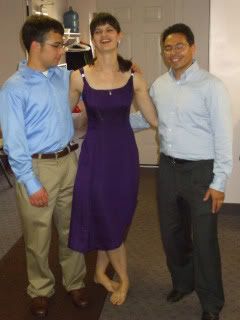 At that point we repaired downstairs for coffee and cake. Kristyn, a woman of many talents, apparently, had baked as well. After she said hello to everyone, I got some time with her and asked her why she'd changed schools, and a few other things. I'll leave it to her to tell her own story, but she was gracious and charming as always. Before it was time to go she was kind enough to pose with me and also to take some pictures in the sunlight. I was sorry to have to hug her goodbye, but I had to.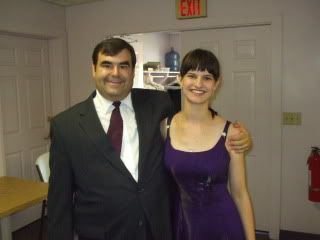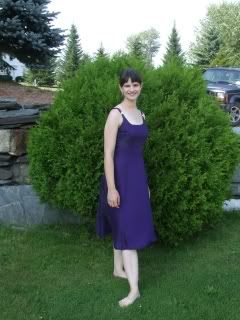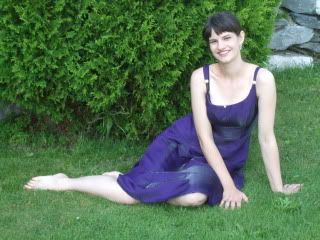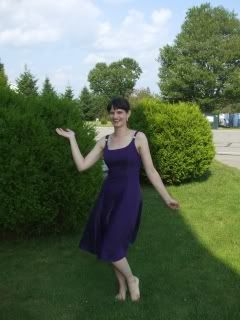 Kristyn continues to improve vocally, although not in the dramatic leaps she had between 13 and 15, which is understandable, the higher you go, the tougher the progress becomes. She still has a wonderful personality which she allows to come through in her performances. She should do well at the Crane School in the fall, and after that, the sky's the limit.