Post by postscript on Jul 22, 2007 7:23:40 GMT
Part 5 continued from
Part 4
THE CONCERT—PRE-HAYLEY
From an earlier cmment I could not understand how the Mount San Antonio College Choir from California could be printed in the programme as they had won their penultimate round that after-noon and I cannot find them as last year's winners but it was announced they were performing tonight as part of one of the prizes, of which they have won many. Any comment, Gordon? A mixed choir of ages 18-25, they received more awards than any other competing choir, including first-place awards in the Youth Choir and Chamber Choir categories and a second-place finish in the Choir of the World competition.
They sang 'Way Over in Beulah' and 'Kalinda'.
On the other hand the soloist Gordon mentions was only entered as 'winner of competition 27, Celtic instrumental Solo'. His was an excellent performance.
Then an additional item, The Loughgiel Folk dancers who entered under three headings: Adult Folk Dance, Children's Folk Dance and Choreographed Folk dance wherein in 2006 they had come first or second in all three categories. This meant they entertained us with a combination of the three groupings.
The easiest way to explain them is to say 'Riverdance' BUT…
I spoke to a lady with whom I had the wit not to assume she had children herself (she hadn't) but was able to confirm my suspicion the youngest were possibly seven and eight. When they combined all ages there was a gasp from the body of the audience whom I assumed to be the cognoscenti of folk dance. Why, I am unclear. It could be a new movement (the choreographed section) or an extraordinarily superb rendition of an established movement. The picture is lifted from their web site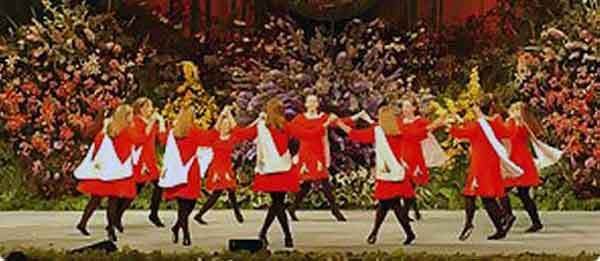 which I assume, as it is promoting them and their skills, will be accepted as a fair use of their permissions. It also gives another view of the fantastic flower display and would appear to be of the teenagers. The younger children were dressed similarly but bare legs and white ankle socks.
I can best describe the movement as when the
corps de ballet
in
Swan Lake
enter sideways on points. They were not exactly on points as their shoes appeared to be what I believe would be a classic schoolgirl 'sturdy' shoe but they were frequently on tip toe and the movement was probably four times as fast as the
corps de ballet
and on the spot! This mix of the very young in the centre of older girls was simply phenomenal. It was an incredible performance.
An interesting aside. On each side of the stage was a screen as large as the outdoor one but this was composed of sections of what I assume were LCD or plasma blocks, whereas the external screen was composed of a complete matrix of small bulbs. The quality, therefore, was superior and lighter weight but there was an anomaly in colour rendition which seemed contradictory. Dave any suggestions? The dancers outfits are superb cherry red yet on the TV screens they came over as orange. Conversely when depicting Hayley's 'Celtic' dress, which we all know is a yellow green, on the screens it was represented as a distinct blue green, yet at all times facial representation and other colours seemed correct.
Certainly the screens were helpful. I had forgotten to bring my opera glasses and I was only half-way down the auditorium, perhaps fifty yards from the stage. Then we had Hayley.
I remember once, in the early years of becoming acquainted with Hayley I had attended a concert when the pre-Hayley guests seemd of such high standard I feared Hayley would seem weak by contrast (which she wasn't, of course). Now I have no such fears and the best tribute i can pay is that Hayley was at her best, that the pre-Hayley entertainment was to Hayley's standard which meant the whole was an utterly incredible evening.
To be continued
Peter S.