Post by comet on Jan 8, 2015 11:47:53 GMT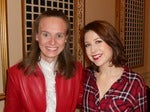 Is this the only way to get this record? I mean, there was 2 records released exclusively in NZ. Were either of those a re-release of these recordings or different recordings from these. Sorry I can't see the pics on my phone.
Thanks in helping this newbie!
Alicia
This may bring good or bad news to people who have a Walking in the Air.
I could do with a better camera to do this,
but these photos are good enough to identify the fakes to some extent at least.
All the characters on the original disc are made up of [
edit by Dave
]
If you have an original like the one above could you check with a [
edit by Dave]
. Could you let me know by PM only what these are ? Thanks
On the illegal copy [
edit by Dave
]
The illegal copies being sold on E-Bay are quite convincing without an original to compare them to.
The above photos are only one detail that will verify which item you have. There are many other details in the original case, back of case insert and leaflet that can indicate if it is original or an illegal copy.