Post by on Dec 15, 2007 18:01:57 GMT
Hi all I am Paul Stillwell, a portrait artist from Poole in Dorset, UK.
I painted a portrait of Hayley and with kind help from Roger and Ray I was very fortunate to meet her after her concert in Southampton recently. Hayley was delighted with the painting and had a long conversation with me about it. Hayley was so kind and charming and she personally autographed the painting "love, Hayley Westenra xxx" in gold ink.
It is currently for auction on Ebay.
A THIRD OF THE MONEY RAISED FOR THIS PORTRAIT WILL BE DONATED TO THE CHARITY UNICEF AND IN PARTICULAR FOR THE 'BIKES FOR GHANA' CAMPAIGN WHICH HAYLEY IS INVOLVED WITH.
HAYLEY HAS GIVEN HER BLESSING FOR ME TO DO THIS....SO PLEASE BID GENEROUSLY!
It is listed on Ebay as
Original PAINTING Signed by HAYLEY WESTENRA
Item number: 250198197326
or click
this direct link to Ebay
.
About the painting: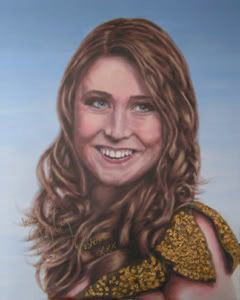 Painted in best quality Acrylic paint on high quality - triple coated - cotton canvas stretched around a wooden frame.
Size 76cm X 61cm
Hayley's top is covered with REAL 24ct GOLD, bought from Wrights Of Lymm, suppliers of purest gold leaf to the Royal Palaces in London, manufacturers of finest Gold leaf since 1840.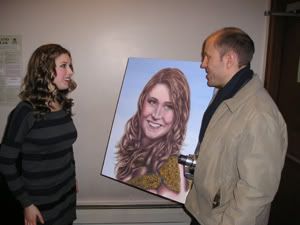 There are more photos of the painting and my meeting with Hayley on my website, along with photos of my other paintings.
www.paulstillwell-art.com
Many thanks
Paul
I tidied up the link to Ebay by hiding the url.
Richard