Colin
Senior Member


member is offline




Like a whisper in the wind





Joined: Jul 2007
Gender: Male


Posts: 255
Location: Southampton

Re: Where do we go from here?
« Reply #30 on Jun 8, 2008, 1:17am »

---

Hi everyone

Having finally prised my Hayley Sings Japanese Songs CD off my CD player, I listened to Where Do We Go From Here.

I'm afraid this is the first song I've heard Hayley singing on that I dislike.

It's nothing to do with Hayley's performance - what I can hear of it - but completely to do with the arrangement and production of the song. Is it me, or does it sound like it's been produced and arranged by, let's be generous, an apprentice?

Blake won the Classical Brit album award and so presumably have a biggish following at least here in the UK. The trouble is any of their fans listening to this song will probably not like it much either, and won't feel inclined to listen to anything more by Hayley.

As you can see, I'm very disappointed with this song and hope against hope that it won't be performed at Broadlands in July, or if it is that it is arranged better.

Kind regards

Colin



---
stevemacdonald
Maestro


member is offline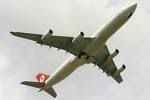 Joined: Jan 2006
Gender: Male


Posts: 2,144
Location: Kansas City, USA

Re: Where do we go from here?
« Reply #31 on Jun 8, 2008, 4:34am »

---


Jun 8, 2008, 1:17am, Colin wrote:

... Is it me, or does it sound like it's been produced and arranged by, let's be generous, an apprentice?


Nah, apprentices are often better than their teachers. Probably was a tin-eared fuddy-duddy with too much seniority. Hayley does not sound great in groups the way she does solo, and no one's figured out how to optimise her contributions those situations.
martindn
Maestro


member is offline




I know just by knowing you, I was blessed.





Joined: Aug 2007
Gender: Male


Posts: 6,237
Location: Leicester, England

Re: Where do we go from here?
« Reply #32 on Jun 8, 2008, 6:30pm »

---

Hi Colin,

Well, I too bought a copy of this. I'played it once, and that was enough! I actually preferred the instrumental version, track 3 to Blake and Hayley's sung version. It is, quite simply as I wrote elsewhere a mess, to my ears at least.

Since then I have stuck to Hayley's Japanese Songs album, which is gorgeous.

Steve, I don't think I agree with you about the groups. She was excellent in CW, and I'm told with Il Divo. The O Holy Night peformance with Blake referred to earlier in this thread was also good. This is just a lousy arrangement of the song, IMO.


Martin

---

I met a young girl - she gave me a rainbow - Bob Dylan
graemek
Maestro


member is offline





Hayley's hair over left shoulder





Joined: May 2006
Gender: Male


Posts: 2,734
Location: Illawarra NSW Australia

Re: Where do we go from here?
« Reply #33 on Feb 17, 2009, 4:13am »

---


Jun 8, 2008, 6:30pm, martindn wrote:

Hi Colin,

Well, I too bought a copy of this. I'played it once, and that was enough! I actually preferred the instrumental version, track 3 to Blake and Hayley's sung version. It is, quite simply as I wrote elsewhere a mess, to my ears at least.

Since then I have stuck to Hayley's Japanese Songs album, which is gorgeous.

Steve, I don't think I agree with you about the groups. She was excellent in CW, and I'm told with Il Divo. The O Holy Night peformance with Blake referred to earlier in this thread was also good. This is just a lousy arrangement of the song, IMO.


Martin


Well, I was warned wasn't I. My copy arrived today 5 days after leaving Japan.
Martin, I feel the same as you do yet I would say I like anything Hayley sings.
I came to this thread to see what had been written about this 3 tracker.
So far I find the CD insults Hayley & Blake....and probably us the customers too.
Shame,
Graeme

---

The loveliest, sweetest flower that bloomed in paradise, and the first that died, has rarely blossomed since on mortal soil.

It is so frail, so delicate, a thing, it is gone if it but look upon itself; and she who ventures to esteem it hers proves by that single thought she has it not.

Humility - Fry
comet
Maestro


member is offline





Soft as the voice of an angel





Joined: Sept 2006
Gender: Male


Posts: 2,967
Location: Dublin Ireland

Re: Where do we go from here?
« Reply #34 on Feb 17, 2009, 5:49pm »

---

Hi Folks,

I got to like this track after a few plays,
I have often heard it come on in another room and it sounds great !
Sometimes I leave the car doors open if I am working in a large workshop or warehouse unit to listen to some music while I work.
I suppose this is a different type of listening as opposed to sitting down , remote in hand and very deliberately listening to a specific track.

When it comes on now I just enjoy it, The ending is a little unusual I Grant you

---

" But you make me forget so very much.
I forget to pray for the Angels
and then the Angels forget to pray for us. " ......Leonard Cohen